Specifications:
Can be installed on all folder gluer models from any manufacturer, new and existing;
Reversible (left/right);
Integrated pneumatic vibrators.
Box Sizes:
Width: Min 2" (51mm)
Max 10" (254mm)
Length: Min 3" (76mm)
Max 12" (305mm)Ratio L/W: Min 1.5
Carton Turner IN 1.6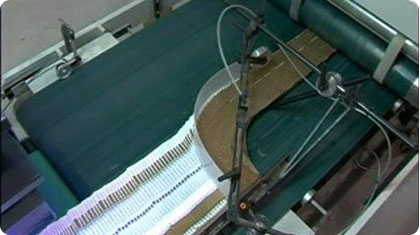 « THE SIMPLEST AND MOST ECONOMICAL WAY TO ROTATE STRAIGHT LINE BOXES. »
The carton turner IN 1.6 allows 90 degree rotation of small to medium size straight line boxes on the folder gluer compression belt. It is reversible for left or right rotation, depending on the required packing specification in the case.