Specifications:
Ergonomic design, the boxes are slid into the case without any lifting;
Ideal solution for classic straight line boxes, 4/6 corners of small and medium sizes;
Standards case sizes:
Width: min 4.5" - Max 28"
Length: min 6" - Max 30"
Height: min 5" - Max 15"
*Other case sizes are also possible on demand;
Automatic case holding system for packing;
Packing in multiple layers and rows;
Automatic case ejection after filling;
Can be installed on all folder gluer models from any manufacturer, new and existing;
On wheels and easy to move quickly from one gluer to another;
Simple and fast case height adjustment;
Case discharge conveyor CM;
Speed synchronized to the gluer production speed;
Adjustable service shelves with integrated lighting;
Low friction transport belt;
Adjustable box guides;
Manual hydraulic packer height adjustment;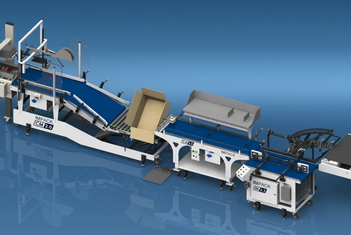 Universal packer Ergosa™ C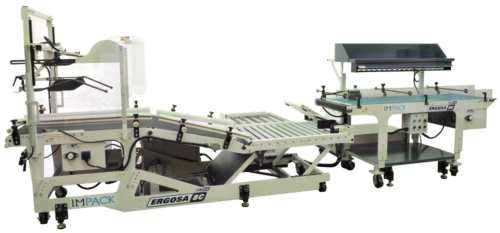 « ULTIMATE PRODUCTIVITY. REACH THE LIMITS OF YOUR FOLDER GLUER WITHOUT BREAKING THE BANK. »
The universal packers of the Ergosa™ family bring the best of both worlds. With the Ergosa™ packers you get the flexibility of a semi-automatic packer and the performances of an automatic packer. They also allow access to the individual boxes for quality control and checks required in today's market.
The many features of the "C" model makes it our most popular and best selling semi-automatic packer for small to medium size cartons. Ergonomic, flexible with minimal changeover time and capable of high production speeds to answer the needs of today's folder gluer lines.
A few options available with the Ergosa™ 8C :
Special attachment for packing into trays;
Back side auxiliary packing station for a second packer for auto/lock bottom boxes;
MIC™ control of the gluer from the packing station.