Specifications:
Can be installed on all folder gluer models from any manufacturer, new and existing;
Standards case sizes:
Width: Max 22" (559mm)
Length: Min 14" (356mm)
Max 26" (660mm)
Height: Max 20" (508mm)
Counting system by invisible ink;
Low friction transport belt;
Adjustable box guides;
Manual packer height adjustment;
Backward tilting case support for packing included.
Options available :
Automatic belt speed control;
Adjustable service shelves with integrated lighting.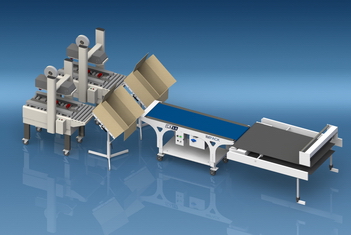 Ergosa™ PP1 - PP2 Pick & Place Packer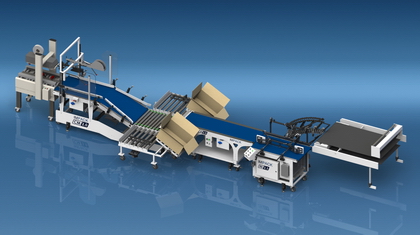 « A SIMPLE SEMI-AUTOMATIC PACKER SIMILAR TO OUR COMPETITORS FOR A LOT LESS MONEY. »
The Ergosa™ Pick & Place Packer is ideal for complex folder gluer lines with very short runs and many type of cartons. It offers simple flexibility and when combined with the IN1.6 carton turner allows higher production speeds on straight line cartons at a low investment with only one person packing on the PP1 model and 2 person packing on the PP2 model.