Specifications:
Single level / single row packing;
Can be installed on all folder gluer models from any manufacturer, new and existing;
Ideal solution for classic straight line boxes, 4/6 corners and auto/lock bottoms from medium to very large sizes;
Excellent solution for microflute boxes;
On wheels and easy to move quickly from one gluer to another;
Backside case ejection system for case conveying;
Laser counter;
Case magazine;
Speed up to 7 cases/minute;
Case sizes:
Width: Min 6" (152mm)
Max 26" (660mm)
Length: Min 10" (254mm)
Max 32" (813mm)
Height: Min 8" (203mm)
Max 21.5" (546mm)
*The Virtuo™ is also available in a small version for small boxes and in a larger version for larger boxes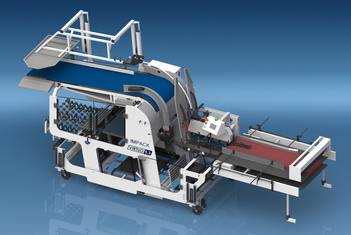 Automatic packer VIRTUO™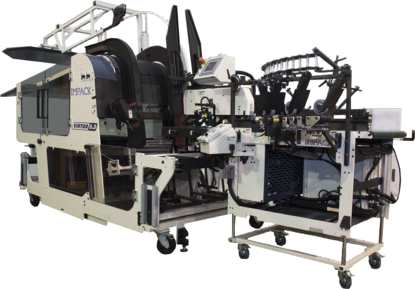 « HIGH PERFORMANCE, COMPACT AND ECONOMICAL »
The Virtuo™ series of automatic packers are known for there simple design, small footprint and lowest cost for any packer on the market today in this category. With it's many available options and configurations the Virtuo can pack many sizes of cartons to include medium to very large cartons (paperboard and microflute) and various styles of straight line, 4/6 corners and automatic/lock bottom boxes in one level and one row. Current applications and installations include: wine boxes, detergent boxes, pizza, fast foods, cereals, etc.
A few options available with the Virtuo:
Case magazine and case feeder;
Inline corrugated case former;
Virtuo Mini™ version for very small boxes into trays;
MIC™ control of the gluer from the packer;
Carton turners for orientation of the cartons prior to packing;
Carton inverters for auto lock bottom cartons;