PRESS RELEASE, FOR IMMEDIATE RELEASE
PPCTS to offer HCI CONVERTING EQUIPMENT CO. pouch & BAG MAKING machines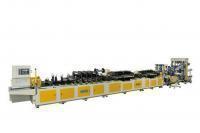 February 24, 2014 – HCI Converting Equipment Co. Ltd. (HCI), a leading manufacturer of high performance pouch and bag making machinery, as well as other auxiliary equipment for the flexible packaging industry and PPC Technologies & Solutions LLC (PPCTS) have concluded a distributor agreement for the HCI range of equipment for the USA and Canada markets.
HCI Converting Equipment Co., Ltd. is a leading manufacturer of a full range of high performance converting equipment and machinery for the Flexible Packaging industry that include Bag & Pouch Making Machines, Pouch Converting Machines, Slitting Machines, Seaming and Shrink Sleeve Machines, Slitter Rewinders, Rewinding Machine and Laminating Machine, with some of the most comprehensive technologies available on the market. With over 30 years of manufacturing experience, HCI designs machines with practical performance at economical prices and reasonable ROI's.
Richard McDonald, President of PPCTS, noted, "We are pleased to add HCI Converting Equipment to our select portfolio of manufacturers, which will allow PPCTS to offer competitively priced high performance equipment solutions to our growing number of customers serving the pouch, bag and flexible packaging markets. HCI counts many years of experience in the field, has several installations worldwide and is a strong leader in pouch and bag making machinery."
For more information visit PPCTS website at www.ppcts.com/hci.htm or HCI at www.hci.cc/
About PPC Technologies & Solutions LLC (PPCTS)
PPCTS is a supplier/distributor, manufacturer and manufacturer's representative of quality products and equipment for the packaging, printing and converting industries. PPCTS offers a "systems approach" to equipment needs and production requirements, with customer specific solutions and over 30 years of industry experience.
For more information, please contact PPCTS at 262-695-7536 or visit their website at www.ppcts.com.
###