RICE PACKAGING INC., ELLINGTON CT, INSTALLS THE INNOVATIVE PPCTS DGM SMARTFOLD 1100SL ULTRA X FOLDER GLUER FOR FOLDING CARTONS.
February 14, 2018 – Rice Packaging Inc., Ellington CT, installs the innovative PPCTS DGM SMARTFOLD 1100SL ULTRA X Folder Gluer for folding cartons production. The SMARTFOLD 1100SL ULTRA X was put into production in late November 2017 and has given Rice the ability of high speed folding and gluing production combined with fast job changeover.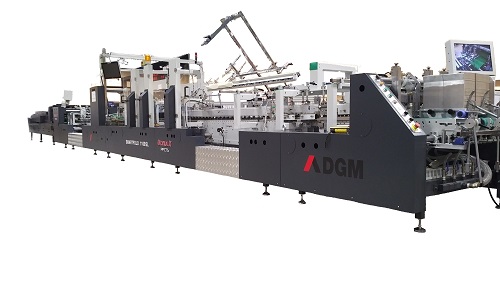 The SMARTFOLD 1100SL ULTRA X includes motorized job/memory recall carriers for fast job changeover, an extra length pre-folding section with tilting upper carrier frame, an extra length "universal crash-lock multi-function section" with integrated "bump & turn" and carton aligner, left & right 6 corner folding, as well as an extra length final folding section with drop down lower and lifting upper center carriers.
The SMARTFOLD 1100SL ULTRA X is powered with a multiple servo drive system for precise carton compression section shingle control through inching, production, acceleration and deceleration speed changes, as well as an innovative high-speed servo back folding system which allows minimal carton separation that increases production throughput of 4 and 6 corner cartons at lower belt speeds. The electrical/electronics design is based on non-proprietary technology for easy machine servicing, including remote diagnostics capabilities.
The SMARTFOLD 1100SL ULTRA X is a technology advanced, affordable, cost effective, state of the art solution for the folding and gluing needs of today's converter and market demands.
For more information and a demo of the ULTRA X at the PPCTS demo/training center in Waukesha WI, contact Richard McDonald at 262-695-7536 x103, sales@ppcts.com or visit the PPCTS website at https://www.ppcts.com