PPCTS INSTALLS AND COMMISSIONS A DGM MEGAFOLD 1850SL CORRUGATED SPECIALTY FOLDER GLUER AT USA NORTHEAST CONVERTER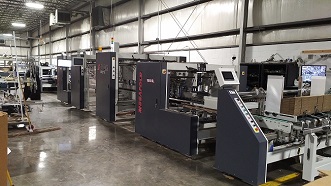 July 1, 2019 - PPCTS has installed and commissioned a DGM MEGAFOLD 1850SL SC+ Corrugated Specialty Folder Gluer at a USA Northeast corrugated converter.
The PPCTS DGM MEGAFOLD 1850SL SC+ is equipped with inline an scoring module for scoring of corrugated boxes. The open design with individually servo driven sections with upper and lower driven carriers and job/memory recall, allows easy operator access for settings and faster changeovers. A handheld operator control, dual pivoting HMI touchscreens, non-proprietary "off the shelf" PLC, electronics and servo drives technologies, servo back folding system, completes a very versatile folder gluer, able to produce complex carton structures, straight line, auto-lock bottom, 4 & 6 corner cartons and more.
For more information, contact Richard McDonald at 262-695-7536 x103 or visit the PPCTS website at https://www.ppcts.com