PPCTS INSTALLS NEW DGM SMARTFOLD 1100SL ULTRA XL FOLDER GLUER AT MIDWEST CONVERTER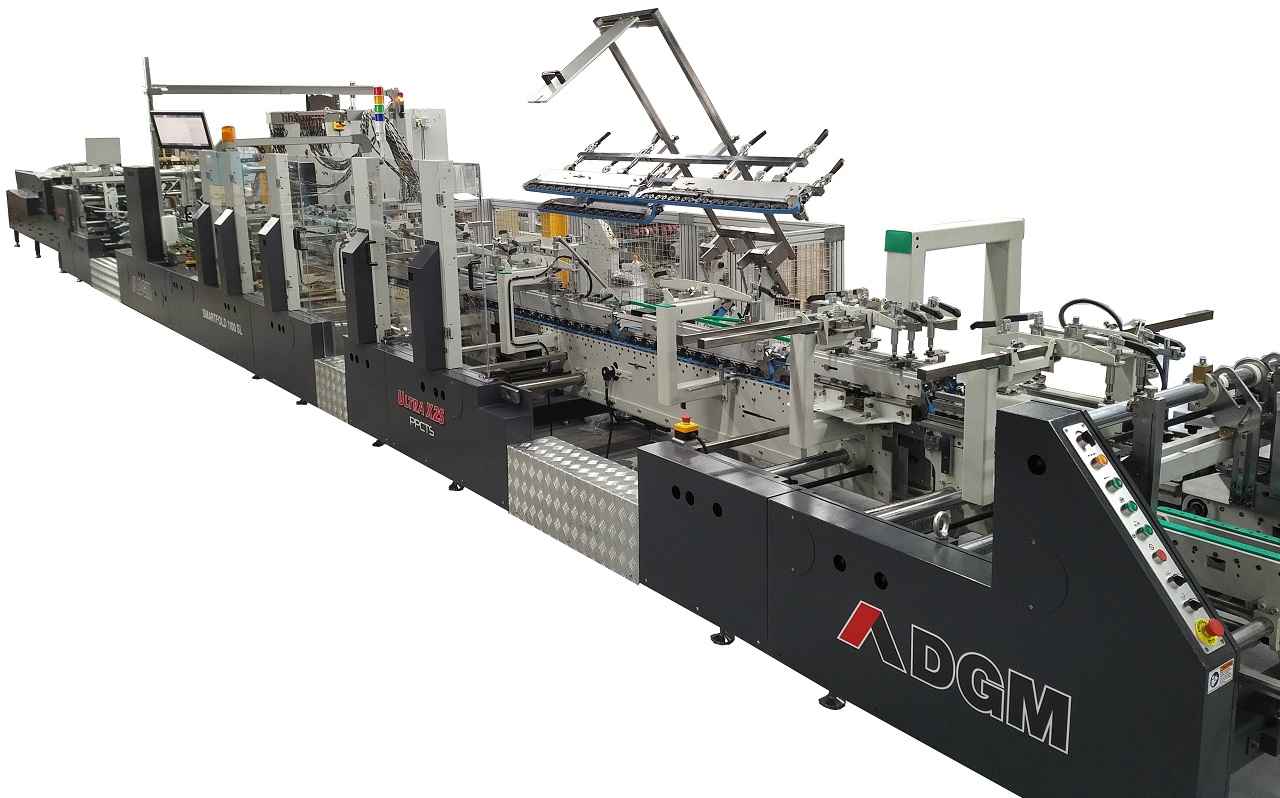 January 1, 2020 - PPC Technologies and Solutions LLC (PPCTS) installs at USA Midwest converter the new SMARTFOLD 1100SL ULTRA XL, the latest addition to its PPCTS designed DGM SMARTFOLD family of folding carton folder gluers, which are specifically designed for the demanding and evolving North American market.
The new PPCTS SMARTFOLD 1100SL ULTRA XL is an extended version of the successfully introduced ULTRA X model. The ULTRA XL is equipped with motorized carriers for full and sectional job/memory recall that includes machine operational settings and parameters for fast and repeatable changeovers with minimal start-up waste.
The friction feeder with vacuum belts and vibrator leads to a standard carton aligner with left and right carton alignment capabilities, followed by a long open access pre-folding section with tilting upper carrier frame with backfolding axis. The "universal multi-function section" with crash/auto lock bottom and integrated "bump & turn" capabilities, left and right upper driven folding belts, as well as servo driven back-folding axis, has been extended. The open access extra long final folding section with pneumatically retracting upper and lower center carriers allows easy transition from small to large size cartons and includes a standard left side glue pot. The servo driven trombone section includes an optional left and right adjustable crushing system that can be independently positioning from the final folding carriers, as wells as motorized lower trombone arms that can be adjusted even during production. Both options are now available on all SMARTFOLD models. The long dual servo driven two zone pneumatically loaded compression section with precision carton shingle length control, features position motorization of the lower compression section infeed roller height, infeed upper entry infeed belts, upper compression section positioning and auxiliary compression sponge belt.
Additional features include a wireless operator remote control for machine operations and carrier positioning, dual pivoting human machine interface (HMI) operator touch screens, non-proprietary "off the shelf" PLC and electronics, as well as a machine precision servo drives system housed in cleanly organized air-conditioned electrical cabinets, that will ensure multi years of reliable production and able to produce simple to complex carton structures with high efficiency, quick turnaround and maximizes up time.
The new ULTRA XL model completes the PPCTS DGM SMARTFOLD ULTRA family offering that includes the ULTRA, ULTRA X, XL and X2S versions, and complements the original shorter SMARTFOLD CLASSIC model which is available in 550, 650, 800 and 1100mm widths and a great affordable solution for smaller converters and/or commercial printers entering the folding carton market. All available SMARTFOLD versions offer affordable performance enhanced solutions to address today's challenging complex folding carton market.
For more information, contact PPCTS: +262 695-7536 or visit https://www.ppcts.com
---
For more information contact PPCTS at 262-695-7536 or fill out our form on our About US page