Press Release
GPA PACKAGING
SELECTS THE PPCTS DGM SMARTFOLD 1100SL CLASSIC X2 FOLDER GLUER FOR FOLDING CARTONS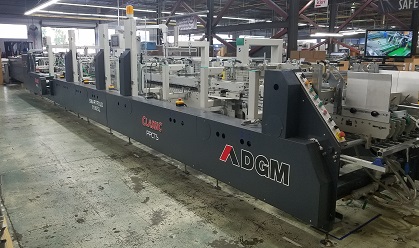 October 20, 2020 – GPA Packaging, Chatsworth CA, selects the DGM SMARTFOLD 1100SL CLASSIC X2 Folder Gluer for folding carton production from PPC Technologies & Solutions LLC (PPCTS). The SMARTFOLD 1100SL CLASSIC X2 was installed and put into production in July 2020 and has given GPA the ability to produce a large variety of simple to complex folding and gluing structures.
The SMARTFOLD 1100SL CLASSIC X2 is a new variation of the CLASSIC which includes a dual crashlock section configuration that can be fitted with three (3) backfolding shafts, Z, compound and small fold pre-assembled "drop-in" tooling, "bump & turn" with carton aligner, as well as, left & right upper driven folding belts in a well laid out split upper carrier design.
Additional features and options include motorized carriers, job memory recall, independently adjustable crushing rollers after the final folding section, integrated blank ejection located in the trombone section and squaring in the compression section infeed.
The electrical/electronics design is based on non-proprietary "off the shelf" PLC and components which are housed in cleanly organized and air-conditioned cabinets for easy machine servicing, remote diagnostics capabilities, handheld operator wireless control and dual operator pivoting touch screens
The CLASSIC X2 is available in 800 and 1100 widths, technology advanced, affordable, cost effective and a state-of-the-art solution for the folding and gluing needs of converters specializing in very intricate complex smaller to medium size cartons in markets like cosmetics, pharmaceuticals, cannabis and more, while maintaining the ability to also produce more traditional styles like 4&6 corners and autobottom/crashlocks.
For more information, contact PPCTS: +262 695-7536 or visit https://www.ppcts.com
---
For more information contact PPCTS at 262-695-7536 or fill out our form on our About US page